Why is Having an Email List Important?
Building an email list is important because it opens up a whole new world of communication you can leverage to bring customers or users down the funnel, nurture them, convert them, and follow up with useful content. Here are some reasons you should consider building an email list.
Staying Top of Mind
99 percent of consumers check their email every day, this channel is an excellent way to keep your app at the forefront of users' minds even when they're not directly interacting with your mobile platform.
Reaching a New Audience
Adding subscribers to your email list allows you to better cater to users or customers with a strong preference for email over other forms of communication. Some users may be less interested in receiving messages via channels like push and SMS and more interested in growing a relationship through their inboxes. Older audiences, for example, tend to be more comfortable receiving brand communications through email as compared to younger audiences.
Ready to learn how to optimize email for your audience? Our guide to email optimization includes that, plus much much more on email performance enhancements.
Leveraging Long-Form Content
With email, you have much more flexibility in your content format than you do with channels such as SMS and push. While these other channels are extremely limited by characters, email gives you ample space to communicate a message. If you haven't explored the value of distributing longer-form content to your users, it's well worth your time to take a look at this channel.
Capitalizing on Email's High ROI
Email is known for its high average ROI. ​​For every dollar spent on email, businesses see an average ROI of $36. This channel can be lucrative, but first you need to build out your subscriber list in order to harness email's high ROI.
Ways to Build Your Subscriber List
Before you start building your email subscriber list, you should ground yourself in proper opt in etiquette. To establish consent to send marketing emails, you'll need to gain users' explicit opt-in.
For legal and practical reasons, you should include also an unsubscribe link in your emails. In the U.S., the CAN-SPAM Act legally requires that companies give consumers a clear opt-out.  If you have users in countries other than the U.S., you'll want to understand international compliance regulations, which can be regulated by laws like GDPR or CASL.
1. Share Meaningful Content to Engage Visitors
The simplest and most effective way to build your email list is to share meaningful content.
When requesting a user's opt in to this channel, make sure you outline exactly what types of content you intend to deliver. You should know that you're legally required to ask user permission before sending marketing emails, and as you establish consent for these email sends, you can present the email content you plan to send users, which should aim to enrich their experience of your brand.
By explicitly communicating this value as part of the opt in process, you'll be able to gain more subscribers and more importantly, retain these subscribers over time should you deliver on this promise.
Rather than using spammy, conversion-focused copy, focus on adding value to the customer journey with your email sends. Email can serve a variety of purposes across the user lifecycle, and the way you engage with users will depend on your industry and core offering.
Here are some examples of meaningful content from brands in different verticals.
News
Send news roundups personalized to a user's explicit news preferences. This could be a roundup of 5 articles per week covering a users's 3 favorite news categories.
Gaming
Deliver helpful educational onboarding sequences introducing users to your game's features.
Travel
Send flight confirmations, deliver boarding passes, request customer feedback, and more.
2. Offer Valuable Freebies in Exchange for Email
What's the best way to get a human, or a user for that matter, to perform a desired action? Give them something free! A freebie is a free piece of content, or lead magnet, used to incentivize users to join your subscriber list.
Whatever asset you give users should address one of their pain points, or struggles within your niche. Freebies can include digital assets such as free worksheets or templates, designs, videos, eBooks, or digital art.
For example, if you are a mental health app, you could offer your users a comprehensive guide to meditation eBook in exchange for their email opt-in.
3. Host Online Events
Online events are an excellent opportunity to collect qualified leads.
Individuals who proactively register for your events are not only a hot audience who is demonstrating interest in your content, but the registration flow for online events also provides an organic opportunity for you to ask users to subscribe to your newsletter or another list.
When your users register online, for example, you can easily include your options or ask for users to join your program.
4. Join Forces With Complementary Businesses
Cross-promotion can be another killer strategy to grow your email opt-ins. If you use one of your partners' channels to help promote your email list, you will reach a broader audience than individuals who are already browsing your site or using your app, and are already connected with your brand. In joining forces with a complementary business, make it clear that your product or associated assets are valuable to your partner's customers. In this scenario, you'll want to pitch your offering more intentionally than within the other strategies we're describing.
5. Offer Discounts or Promotions
A tried and true way of getting users to opt into your email program is by offering a discount or promotion. Getting users into the funnel and engaged with your products helps cultivate a relationship with your brand and incentivizes repeat purchases. Your eComm platform could offer a seasonal discount on outdoor wear in exchange for a user's opt in to your email marketing list, for instance.
6. Share Message on Social Media
As part of your cross-channel communication efforts, you can use social media to promote your email list. Your social media platforms likely deliver value to and nurture different audiences than the audiences who are present on your other channels, you may want to leverage the reach its reach to deliver your email ask. If your social media channel is already well established and consistently delivers value, your users here may be more inclined to say yes to joining your emali program.
7. Embed a Subscription Form on Your Website
Web prompts provide a simple way for your visitors to opt in to receive emails (and SMS.)
As your website attracts visitors,  you can build your email audience, serve content to your best customers, and build lasting relationships with them.
OneSignal's customizable web prompts allow you to capture your users' information without relying on third-party integrations or manually importing audience lists across siloed systems.
These prompts can be tailored to ask for a user's email/and or phone number, depending on which lists you're attempting to grow. It's also important that the prompt only accepts valid emails and phone numbers, which means that you're collecting legitimate contact information.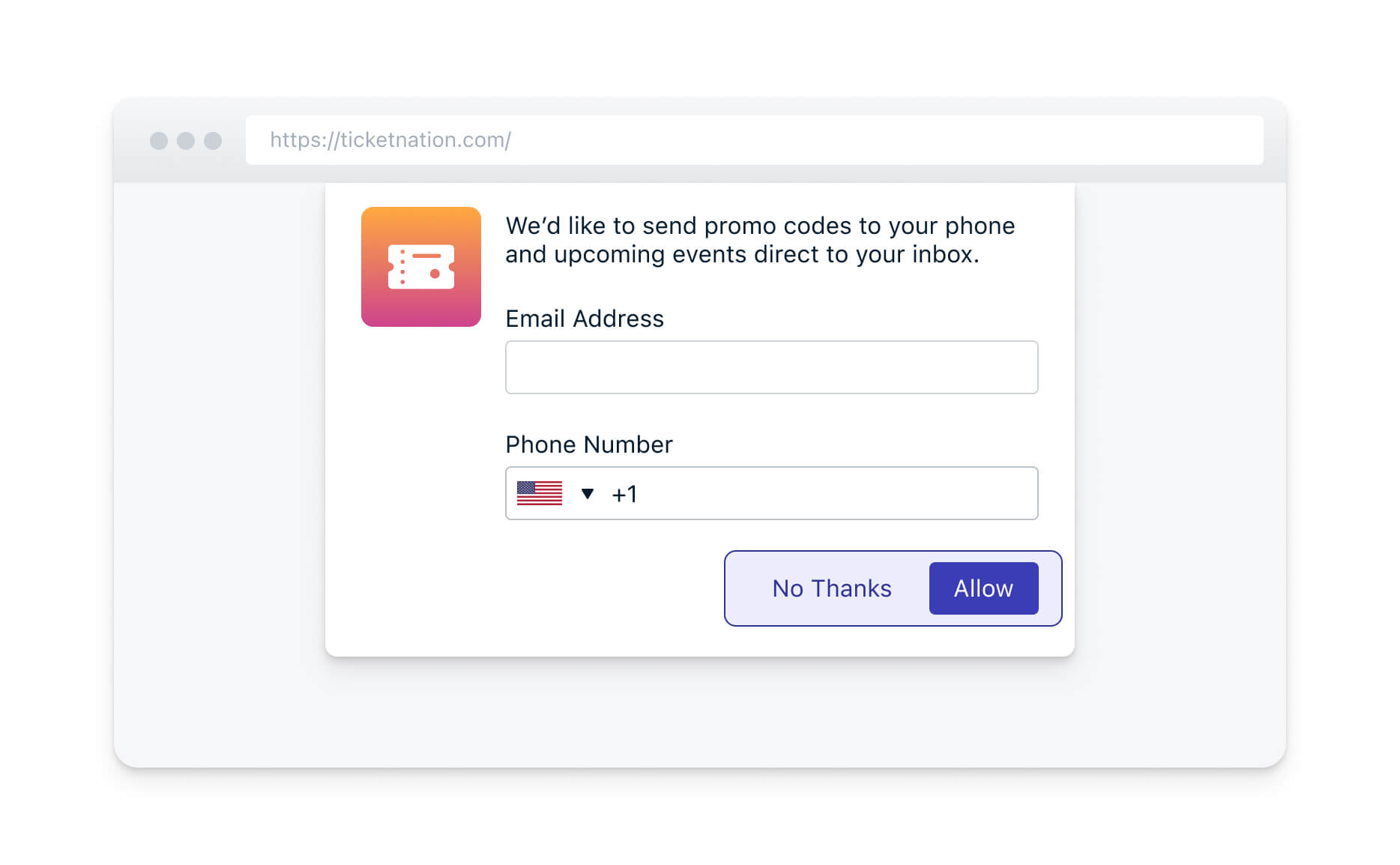 You choose the wording, labels, and even the confirmation message. OneSignal will collect and synchronize these data on our systems.
With our product, you can also use prompt delays customized by a user's time on site, page views, or time on certain pages.
All of this gives you more ways to build your subscriber list, hone your messaging strategy, and build cross-channel customer journeys.
8. Let Users Choose the Types of Messages They'll Receive
Like any healthy relationship, your user messaging strategy should hinge on respect and choice. That's why it's beneficial for you to give users options in terms of the types of emails they will receive from you, so that their overall experience with your brand is favorable. Maybe ond user of your fitness app wants to receive your sneaker discounts and sports bra sales, but another user may only want to receive your top-of-funnel blog articles about sports nutrition. Letting users choose what messages they receive is part of personalization, which is more and more expected in today's day and age.
Getting Started With OneSignal
OneSignal is designed to help you seamlessly manage your user communication across a variety of channels. Our platform is quick to set up and makes it easy to send eye-catching emails, push notifications, in-app messages, and bulk SMS without doing any development work. If you don't have a OneSignal account, you can create one for free and start sending automated email campaigns today. Don't take our word for it — simply sign up and see for yourself!
Create a Free Account