Kyivstar Uses OneSignal to Boost MAU and LTV
Kyivstar leverages OneSignal to create new mobile app revenue streams by enhancing user engagement and retention.
10%
Increase in Monthly Active Users (MAU)
50%
Increase in Revenue-Generating Transactions
Kyivstar is the largest Telecommunications network in the Ukraine, with over 26 million mobile users and more than one million internet customers. In addition to providing core services such as voice, data, and FTTB to B2B and B2C audiences, the company offers various digital solutions and products that are developed in-house. Their mobile app, My Kyivstar, enables users to manage their account and add on subscriptions from their smartphones.

To communicate with their mobile app users, Kyivstar needed a strong engagement solution. Before finding OneSignal, they were using another solution but were struggling to configure, target, and automate communication with a high degree of precision. After experiencing too many limitations when trying to dynamic user segments in their legacy solution, they decided to look into other options.
"The main thing that made us choose OneSignal was the performance," says Dmytro Derevianko, Head of Product for Kyivstar. Because of the immense size of their subscriber base in the Ukrainian market, Kyivstar couldn't afford to deal with deliverability and reliability issues. After demoing OneSignal, they were impressed with the ease-of-use and functionality right out of the box.

"It was logically much more simple to define dynamic Segments in the platform, and OneSignal has good documentation for different use cases, which is important to be able to execute campaigns by yourself without consulting with developers and Business Intelligence."
Using OneSignal's turn-key, bi-directional integration with Amplitude, his team was able to build dynamic user Segments to target users in real-time based on actions they took within the app.

After a few months, Derevianko was certain they had made the right choice because they were launching messaging campaigns much faster than they ever could with their legacy solution. In addition, it was easy to integrate OneSignal with their BI solution, which empowered them automate messaging around key billing events and account milestones.
Shifting Focus from User Acquisition to User Retention
For Kyivstar, customer engagement is a top priority. "Our most important KPI is MAU [Monthly Active Users], and we understand that MAU is a direct result of actions taken in the app," says Derevianko. As the company has grown and the market has evolved in recent years, his team has changed their primary focus from new user acquisition to user retention. Although they experienced challenges with user retention in the past, OneSignal allowed them to remedy those challenges with greater speed and agility than ever before.
"Our most important KPI is MAU [Monthly Active Users], and we understand that MAU is a direct result of actions taken in the app."
By using push notifications to highlight offers from partners, share exclusive discounts, and hone their targeting abilities, Kyivstar was able to create more sustainable revenue streams that offered new growth potential for the company. Although new user acquisition decreased between 2020 and 2022, they increased monthly active users by 10%. In 2022 alone, contextual notifications about account top ups gave the company up to 10 million UAH (about $272,000 USD) in incremental growth per month and increased overall revenue from mobile communication services by 10%.
If a user is more active in the My Kyivstar app, it also means that they have a higher likelihood of seeing new offers, plans, and services — opportunities which increase their total lifetime value (LTV). For instance, if a user checks their balance and partner offers once a week, they're also more likely to see new upgrade plan options based on their usage frequency. "We have a bigger funnel of users that we can convert to new plans, which has created additional revenue for the company," says Derevianko. Since they shifted their engagement strategy and started working with OneSignal, MyKyivstar is now one of their largest revenue sources amongst all other Kyivstar communication channels.

In addition to increasing MAU and user engagement, Kyivstar has also significantly decreased uninstalls, and has gained a better understanding of user behavior that they've used to adapt their communication strategy. "For instance, if we see that a new user has topped up their account, then we automatically notify them after 30-days to remind them to do so again," explains Derevianko. By automating and personalizing the content and timing of this communication, Kyivstar has revolutionized their engagement strategy.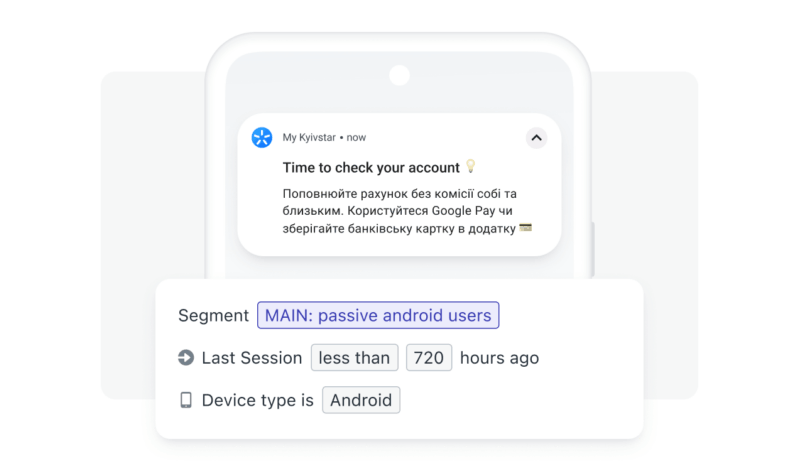 Leveraging In-App Messaging to Educate Users & Improve Feature Adoption
Although Kyivstar's team had used in-app messaging with their previous provider, they were shocked by how much easier it was to configure in-app messages with OneSignal. "With our previous solution, we had to use HTML to configure messages, but with OneSignal, you can create a quality in-app message without even having simple development skills," says Derevianko.
The ease with which his team can produce in-app messages has made it easier for them to educate users about upcoming changes and encourage them to try out new app features, further supporting their goals of increasing MAU and LTV.
For instance, when Kyivstar had to change the cost of their cellular plan, they sent an in-app message to users explaining that the changes would help them make timely repairs to stations damaged during the war, better provide communications to Ukranians in liberated territories, and expand their network to other populated areas of Ukraine.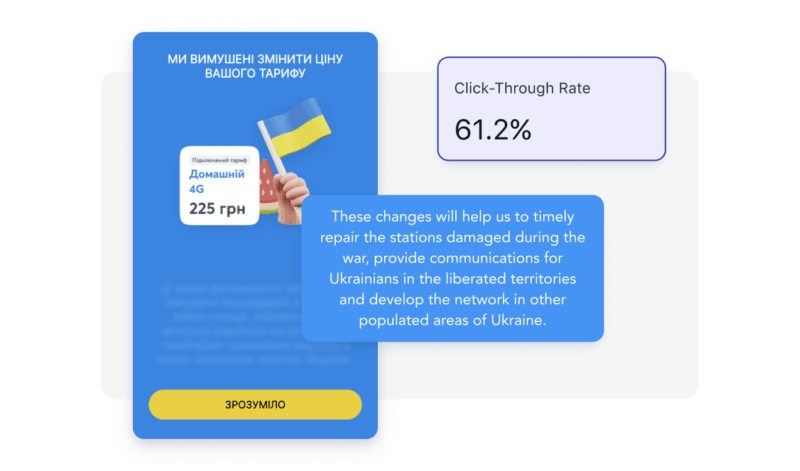 Kyivstar recently launched a new product which allows users to identify themselves and sign a contract within the mobile application rather than visiting a brick-and-mortar location. "The user flow is a bit complex, so we launched this pilot using messaging to guide users through that process," says Derevianko.
The ability to support and educate users around new features without spending extra development resources has helped his team grow their product and move quickly while protecting the core user experience.

"With our previous solution, we had to use HTML to configure messages, but with OneSignal, you can create a quality in-app message without even having simple development skills."
More Customer Case Studies
Find out how our customers are using OneSignal to increase retention
The Hut Group (THG) drives efficiency and growth with OneSignal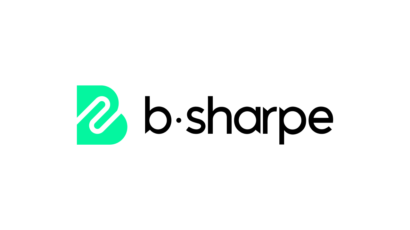 b-sharpe uses OneSignal's Journey tool to seamlessly automate push notifications, emails, and in-app messages to its users.
See how they re-engage players, increase monthly active users, and boost player retention across all their gaming apps.
Get Started Today For Free With Our Tool
We'll get you going in a matter of minutes.
Have questions? Chat with an expert.