OneSignal helps over 700k developers send 4 billion push notifications every day to help them connect with their subscribers.
Push notifications are a great way to re-engage with audiences. Yet the question remains, how do you get them to convert once they're back?
Differences Between Push Notifications and In-App Messages
Push notifications occur outside of the app when the user is not actively using it.
In-app messages appear within the application (hence the name), and show only when users have it open.
Who do you send them to and why?
In-app messages are targeted to those who are already actively engaged with the app, while push notifications are sent to bring people in. These messages should be used carefully to enhance the experience for this audience without interrupting the flow of the user-app interface.
How can each be disabled?
Users can disable push notifications anytime within their app or phone settings. This makes it easy for users to opt out and disengage. Unlike push notifications, in-app messages can only be disabled by the app product development teams. This makes in-app messaging a powerful marketing tool that gives product development teams a direct line of communication to users.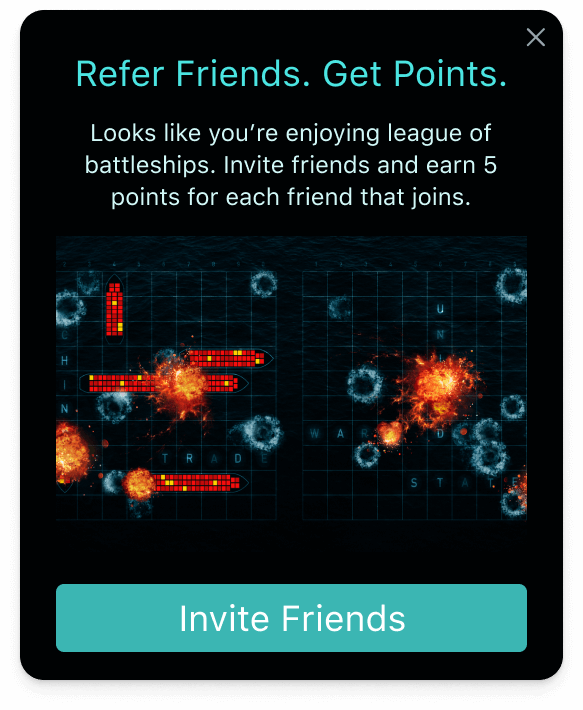 Three Ways to Maximize Opportunities Via In-app Messaging
There are several ways to use in-app messaging to engage users and increase their customer lifetime value. Here are three of the best ways.
1. Grow Your Subscriber Base
In order to reduce frustration, allow users to opt in to In-App messages.
Once your users opt in, you can engage and grow your user base by communicating with them whenever they have your app open.
Example: On-boarding new users via In-App notifications and prompting them to enable push.
2. Customize to Each Segment
Releasing a notification with little or no relevance to everyone is the quickest way to turn users off. Since they can't disable in-app messages as they can with push notifications, they may get annoyed and delete your app if in-app messaging is used excessively.
Using OneSignal's powerful segmentation tools, you can ensure that users receive relevant in-app notifications.
Example: A/B testing in-app marketing messages containing cross-sells or up-sells.
3. Add In-App Messaging Without Re-Releasing Your App
Having spent time in app development, we know that re-releasing your app is a huge hassle. It would be inconvenient to go through the update and release processes for every in-app message.
Using OneSignal's toolset, you can add in-app functionality without having to re-release your whole app.
Example: Prompting users to update the app and suggesting additional features post update.
OneSignal's In-App messaging feature is currently in beta. View the webinar hosted by OneSignal's Head of Product below. You can also schedule a demo to speak with a Push Notification Specialist about early access.