We're excited to announce that we've added yet another way to start sending email with OneSignal. Now you can either use OneSignal as your email provider, or you can still choose to integrate your existing eligible email account with OneSignal. Regardless of the option you choose, you'll have access to the same intuitive email and omnichannel tools in the OneSignal dashboard.
Ready to jump into email campaign boosting strategies? Our guide to email optimization is the perfect place to start.
How to Know Which Provider Is Right for You
Did you know that every dollar spent on email leads to an average return of $42? To help you start capturing the benefits of investing in email, here's a handy guide to figure out which email provider is right for you and your business.
If you're brand new to email…
Consider getting set up directly with OneSignal, so you don't add another vendor to your list and can take advantage of the cost savings of an all-in-one solution.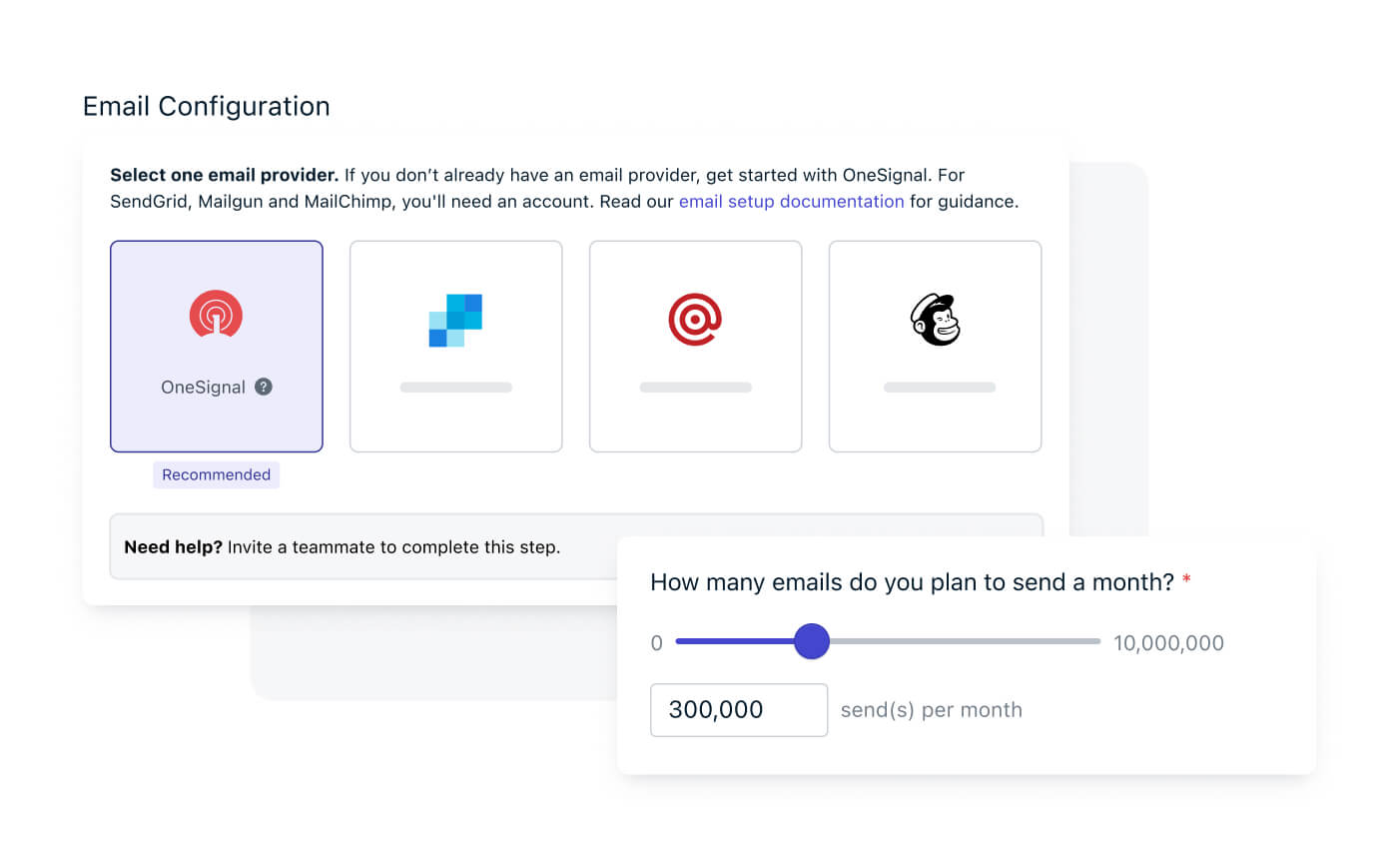 We've heard from customers that existing email solutions are cost-prohibitive. If you get set up directly with OneSignal email, orchestration and delivery costs are bundled together to save you money. Plus, we only charge by email send volume, not your contact list. With pay-as-you-go billing, you can affordably expand your email communications as you grow.
If you're already set up with a supported email service provider (Sendgrid, Mailgun, or Mailchimp Transactional (Mandrill))…
We recommend integrating your current eligible provider with OneSignal. That way you can get set up quickly and still get access to all the OneSignal design and testing tools in the dashboard.
If you're looking for a new email service provider…
Consider choosing OneSignal as your provider, so you can consolidate your messaging vendors, save with our bundled send and delivery costs, and easily scale with our pay-as-you-go billing based on email send volume.
Ready to Get Started?
Adding email to your existing mobile messaging is sure to drive better engagement; after all, 99% of consumers check their email every day. Email is currently available for Growth, Pro, and Enterprise customers. To unlock access, upgrade your plan today. If you'd like to learn more about our email features and ongoing updates, explore our documentation.