A cross-channel messaging platform is only as strong as its ability to play nice with your existing messaging tools. At OneSignal, we're proud to be in the business of building these bridges, most recently with our introduction of webhooks for OneSignal Journeys.
Your OneSignal messaging now seamlessly sends user data to third-party analytics tools, support ticket systems, and other external messaging providers. This means higher-impact messaging flows and some entirely new ways to fine-tune your mobile marketing strategy for quality engagement.
Let's take a look at five distinct use cases for webhooks and how they can be used to open brand-new doors for OneSignal Journeys.
Need a refresher on webhooks? Check out some of the most frequently asked questions about webhooks!
Use Cases For Webhooks With OneSignal
Here are five ways you can use webhooks in Journeys to create high-impact sequences:
1. Trigger WhatsApp Messages
This one has been a long time coming! Journeys webhooks unlocks new messaging triggers for WhatsApp.
WhatsApp boasts an enormous user base, with almost 3 billion monthly active users globally, making it an incredibly popular and widely adopted messaging platform. By leveraging WhatsApp in your mobile messaging strategy, you can tap into this vast audience and reach potential customers on a platform they already use and trust.
WhatsApp also supports multimedia messaging, enabling you to engage with users through images, videos, and voice messages, making your interactions more dynamic and engaging.
Consider the following scenario. You are a mobile app developer, and you want to welcome new users to your app by sending them a personalized WhatsApp message. To achieve this, you integrate webhooks to collect user data and trigger the WhatsApp message when a new user signs up. Guide them to success by pointing them towards popular features, content, or a high-value action.
Interested in learning more? Check out our documentation on setting up Journeys webhooks.
We encourage you to take advantage of Journeys Webhooks with WhatsApp to ensure that users receive timely greetings without any manual intervention. It's a perfect way to create a personalized and seamless onboarding experiences for new users!
2. Expand Your Reach With Previously Unsupported Channels
Your messaging reach is more powerful than ever, now that you can streamline your multi-channel marketing efforts with consistent messaging across all channels.
Use webhooks to trigger messages on other channels and providers not currently supported by OneSignal to engage with a broader audience, increase your brand visibility, and multiply your potential customer interactions. You now have one hub to simplify the process of creating, scheduling, and tracking messages across different channels.
For example, you may want to create a Journey that automatically triggers a digital postcard service to support an upcoming promotion.
We're bringing the same hyper-relevant messaging power you've come to know and love with OneSignal to previously unsupported providers.
Take it a step further by automating this integration to save time and minimize the chances of errors, and save time in the process. Utilizing webhooks to integrate unsupported channels is a time-effective alternative to building custom integrations or separate platforms for each individual channel.
As new channels emerge or existing channels evolve, you can quickly integrate them into your messaging flow using webhooks, allowing you to stay flexible and adapt to changes in an ever-changing messaging landscape.
3. Create Cohesive Remote/Live Config Experiences
Using Journeys webhooks, you now have the power to integrate live config capabilities directly within your mobile messaging flow for your most responsive messaging campaigns yet.
For example, let's say one of your users just redeemed an in-app reward. Instead of hardcoding the reward behavior into the app itself, add a branch after the in-app message based on user responses. Then add a webhook step to send the user EUID and reward information to your backend system to handle reward redemptions dynamically.
Remember, the most effective mobile messaging is based on specific user data. This real-time personalization ensures that users receive relevant and engaging reward messages at the optimal time for engagement and conversion.
Journeys also allow you to make adjustments to messaging campaigns without requiring app updates or manual interventions. This flexibility enables agile campaign management, allowing you to experiment with different messaging strategies, optimize performance without interruption, and respond promptly to user feedback.
4. Reach Out at the Right Time
By sending user data from OneSignal to your backend or BI tools, you can access deeper insights into user identifiers or attributes, enabling a whole new level of data-driven decision-making.
Did an email subscriber complete a demand generation sequence? Update your CRM or BI system to show that they are ready to be reached out to by the sales team.
Webhooks allow you to send data as users interact with your app, ensuring that data is up-to-date and accurate. Sending user data to your backend or BI tools enables data tag and User ID analysis, which can lead to valuable insights for better decision-making, content personalization, and user segmentation.
5. Create Support Tickets Based on User Engagement
Did a recently canceled subscriber not give any in-app feedback on why they canceled? Give them a few days and then add a webhook that tells your support system to create a ticket for that user – no manual intervention required.
By instantly creating support tickets based on user segments, your support team can respond promptly to customer inquiries or issues.

If there is any department that must operate like a finely-tuned machine, it's customer support. By implementing webhooks, you elevate your support team's ability to operate efficiently and take on the volume of support tickets necessary to preserve customer loyalty!
6. Export Data to Zapier
With Journeys Webhooks you can automatically send data to Zapier straight from a Journey to trigger actions, updates, and more on another platforms without involve technical resources.
Configure a webhook template, connect it to Zapier (via a Catch Hook in Webhooks by Zapier)  and then add it to a Journey to get started.
The integration of webhooks and Zapier streamlines the process of transferring user data from OneSignal to other apps and services, eliminating the need for manual data entry and ensuring data consistency across platforms.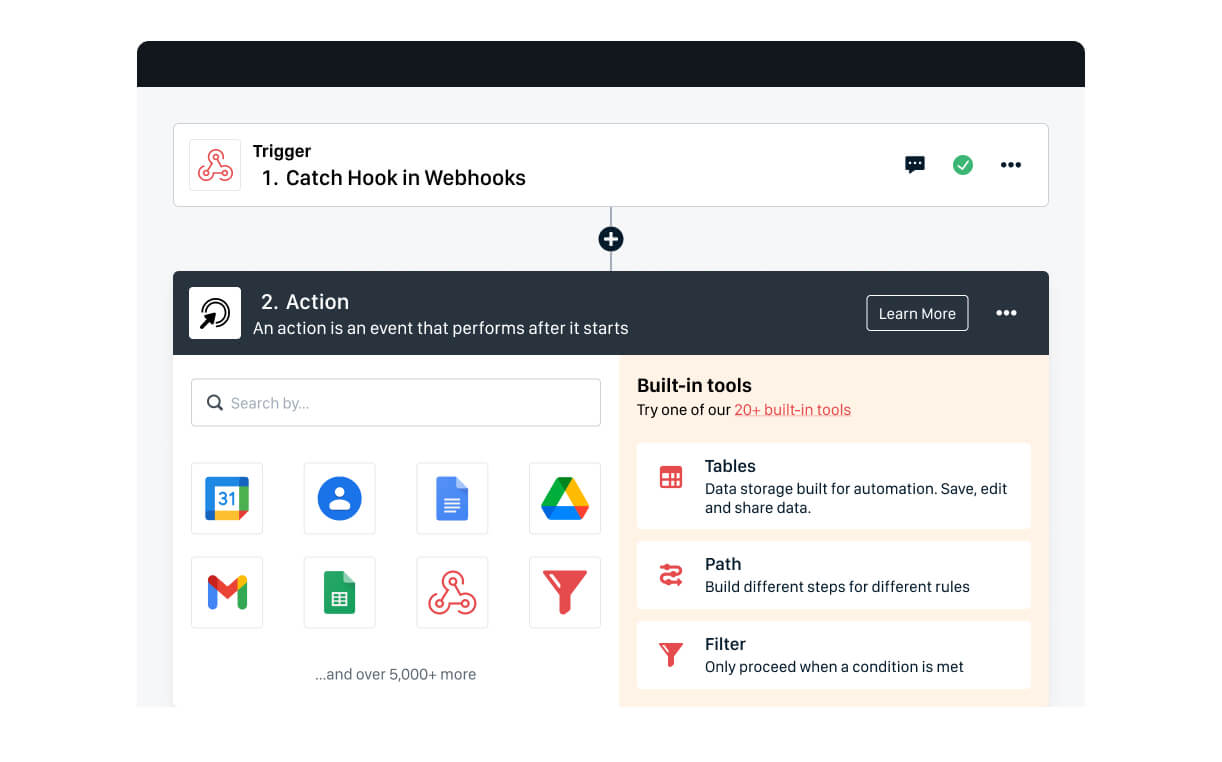 Keep in mind, this is only scratching the surface of what Journeys Webhooks brings to the table for OneSignal users.
Ready to get started? Learn how to get started with Webhooks for Journeys in three minutes!
OneSignal Just Got More Powerful
Journeys webhooks is available exclusively for our annual plans. To learn more about how your organization can take advantage of Journeys webhooks and unlock access, reach out to our team to get started!
Connect With Our Team!