OneSignal serves over 2 million users and sends 12 billion messages every single day. This means a couple of things. First, we've seen it all. Second, and more importantly, we've seen the best of the best. From explosions of new subscriber growth to near-100% click-through rates — we've had the opportunity to witness the power of mobile messaging in the hands of some truly innovative industry leaders. The 2023 Customer Engagement Awards leveraged OneSignal's bird's eye view of the mobile marketing landscape to showcase these organizations and celebrate their genuinely inspiring successes.
Above all else, we want to thank you, the OneSignal community, for your enthusiasm and relentless ingenuity. We wouldn't be OneSignal without every one of you.
Without further ado… your best-in-class of 2023!
Most Impactful Campaigns, EMEA
Taptap Send - Traci Trang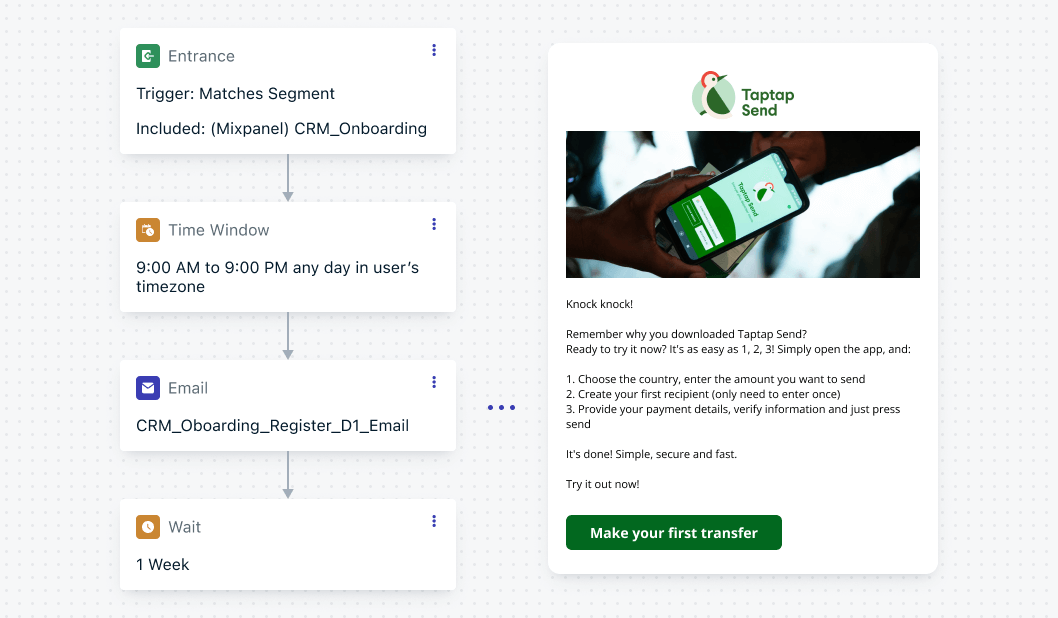 Taptap Send helps people send money back home to Africa, Asia, the Caribbean, and South America quickly, securely, and at a fraction of the cost. The team at OneSignal is thrilled to see their rapid growth as Taptap Send carry their mission to users across different markets. Using Journeys, Traci has led the global impact of Taptap Send central campaigns on increasing conversions and user retention. Her skillful personalization and optimization of journeys are key to engaging users across multiple channels.
Best Customer Journeys, EMEA
Zigzag Puppy Training - Ed Williams, Emily Heath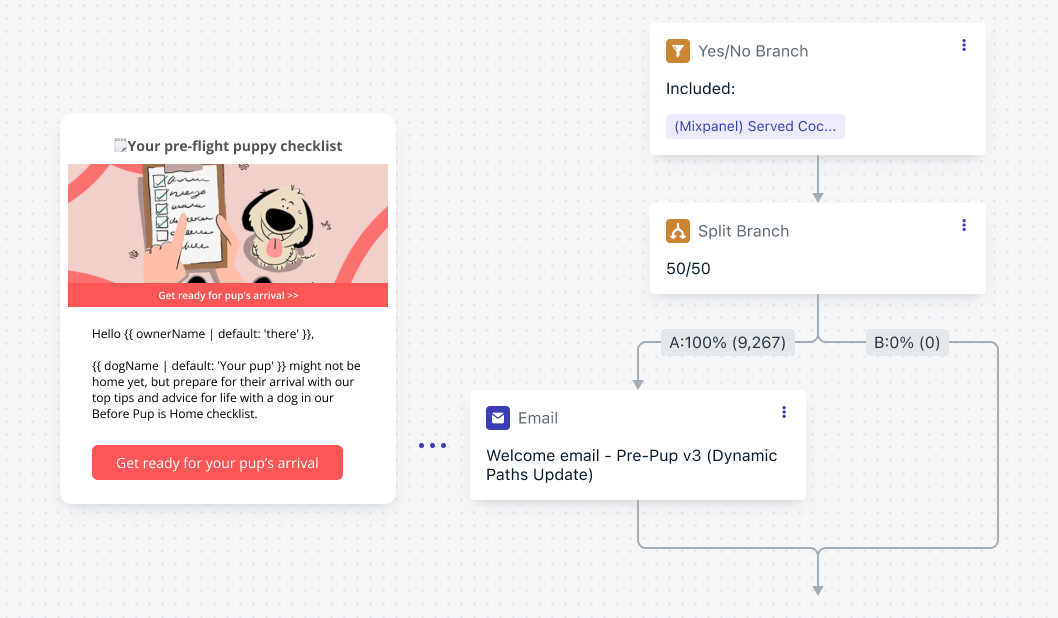 Zigzag Puppy Coach, the app dedicated to puppy training, has shown exceptional prowess in converting free trial subscribers into paying customers. Their thoughtful use of Data Tags to segment and engage their audience demonstrates best practices for customer engagement. By customizing notifications based on their users' progress and the need for encouragement, Zigzag ensures that each milestone in the training journey is relevant and timely, ultimately driving high customer engagement and well-trained puppies.
Forward Thinking Marketing, EMEA
Bitcoin.com - Alun Stern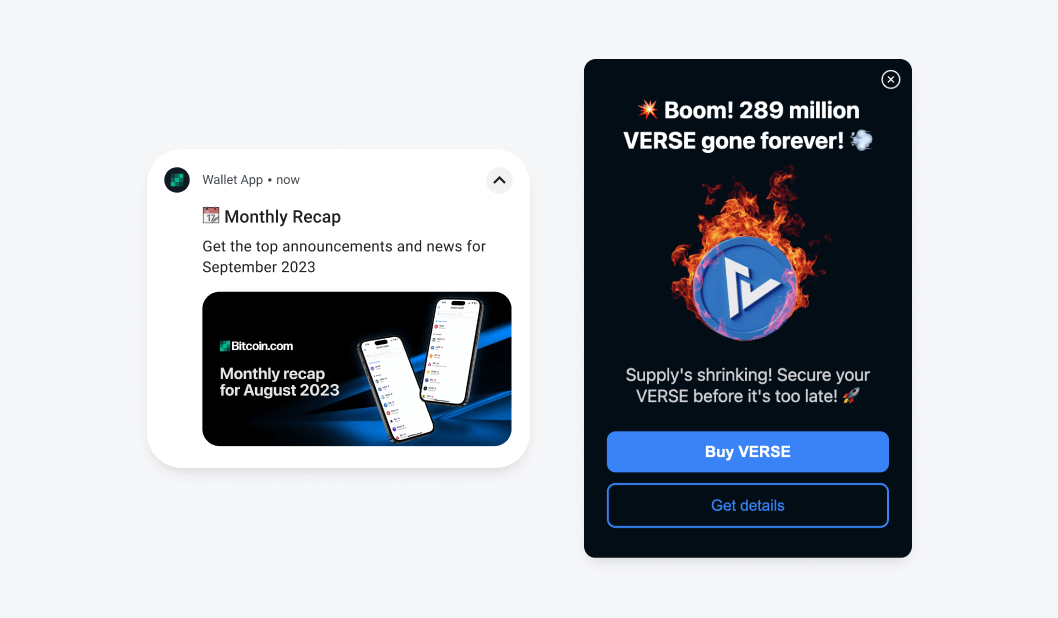 Bitcoin.com is an all-in-one platform enabling users to buy, sell, trade, and invest in Bitcoin and cryptocurrencies securely. Bitcoin.com's messaging, which consistently drives transactions, delivers industry updates, and re-engages users with their platform, includes a mix of beautifully designed Push and In-App notifications. Their continuous exploration of new use cases for OneSignal is key to their success and has allowed them to develop a highly refined messaging approach through testing and experimentation.
Best Message Design, EMEA
Candivore, Yarin Ben Yakov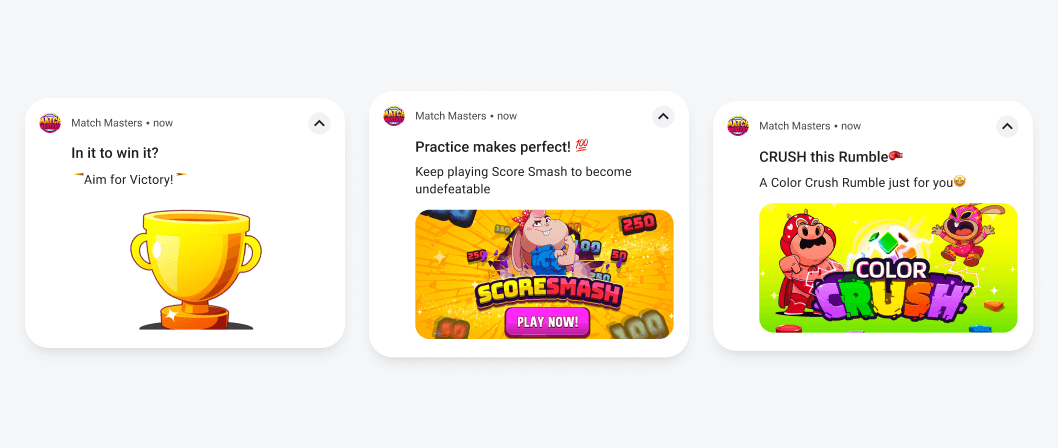 While push notification design may seem simple, small tweaks can make a huge difference in performance. Candivore, a pioneering mobile multiplayer gaming company, consistently delivers messages that serve as a best-in-class example of push notification design for gaming. Carnivore's dedication to perfecting the craft is evident in every notification they send.
Best Environmentally Friendly Engagement, NAMER
FoodHero - Matthew Bienz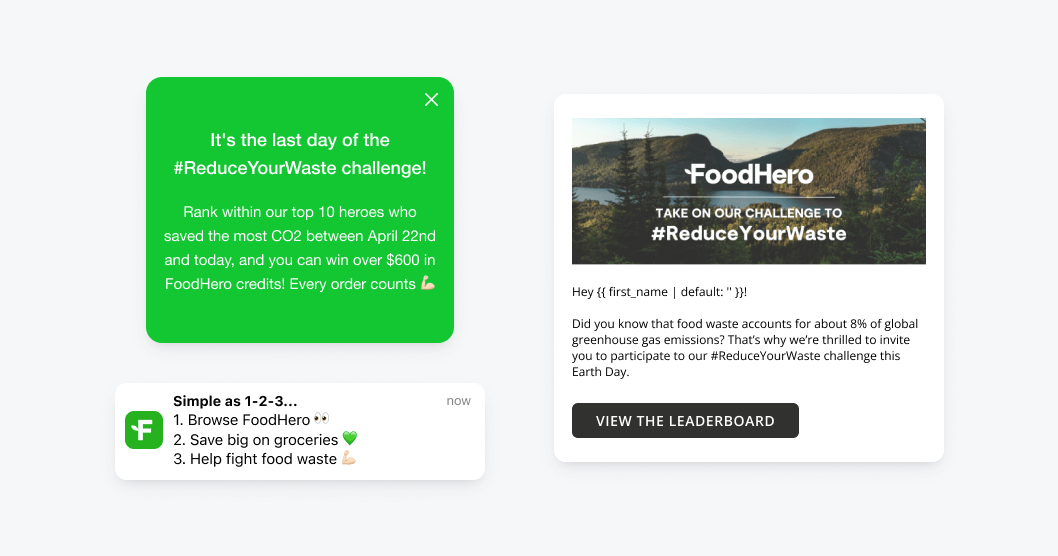 FoodHero is an app dedicated to reducing food waste by selling and delivering unsold grocery items near their "best date." When it comes to developing environmentally friendly practices, developing habits is key. Their adept use of OneSignal for Push, In-App, and Email plays a crucial role in raising awareness about making eco-conscious choices and contributes to a greener, more sustainable future.
Forward-Thinking Marketing, NAMER
Zenni Optical - Auri Pope, Martin Refsal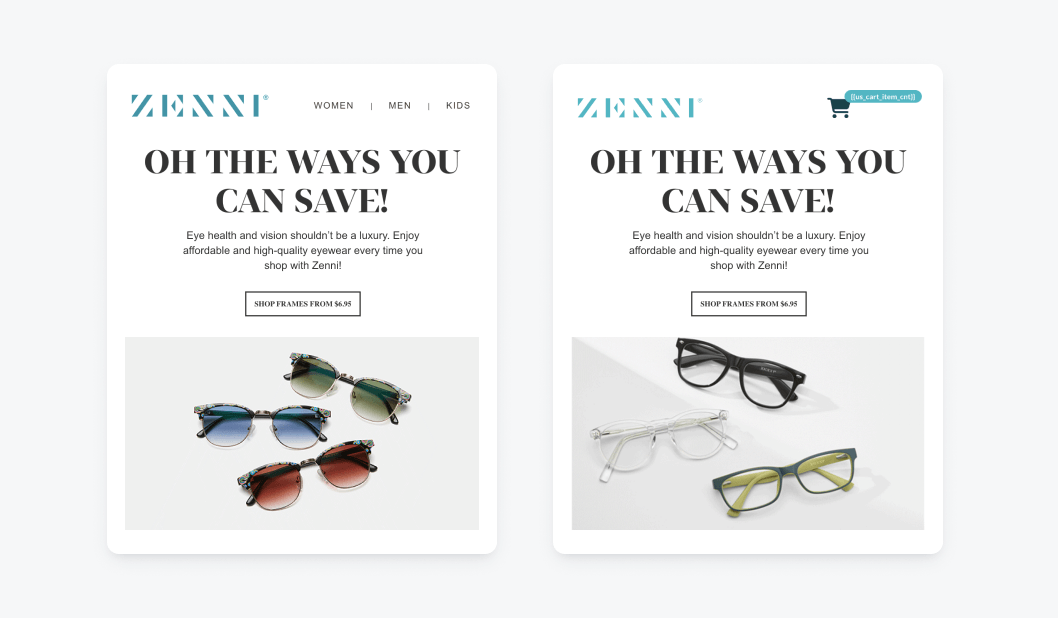 Zenni, an online retailer of affordable prescription glasses and sunglasses, is rapidly carving its niche in the e-commerce landscape. Leveraging an omnichannel strategy, Zenni seamlessly integrates Email, SMS, Push, and In-App messaging for both transactional and marketing campaigns. Their rigorous A/B testing underscores a commitment to enhancing the customer journey and staying ahead in messaging technology.
Best Customer Journey, NAMER
Saturn - Max Baron, Dylan Diamond, Rob Dearborn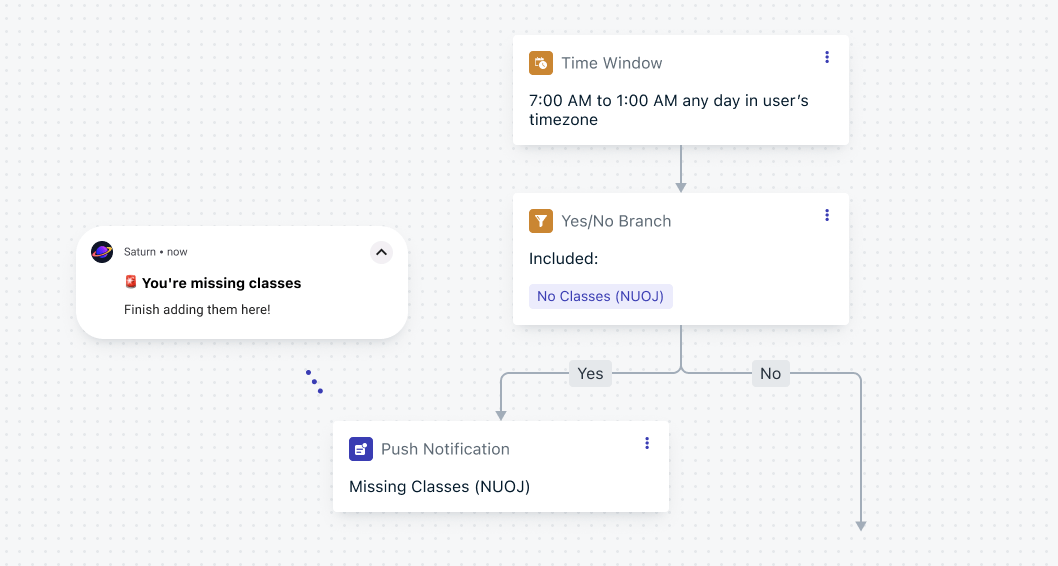 Designed to help high school students manage their complex schedules, Saturn is a rapidly growing social networking app that has won a coveted spot in the top charts of the App Store. Key to Saturn's success has been a thoughtful, beautifully designed onboarding Journey, which combines Push and In-App messaging to ensure users hit critical milestones, reducing time to the "aha" moment and ensuring users get the most out of the app's functionality.
Best Message Design, NAMER
Monarch Gaming (GenoPets) - Jay Chang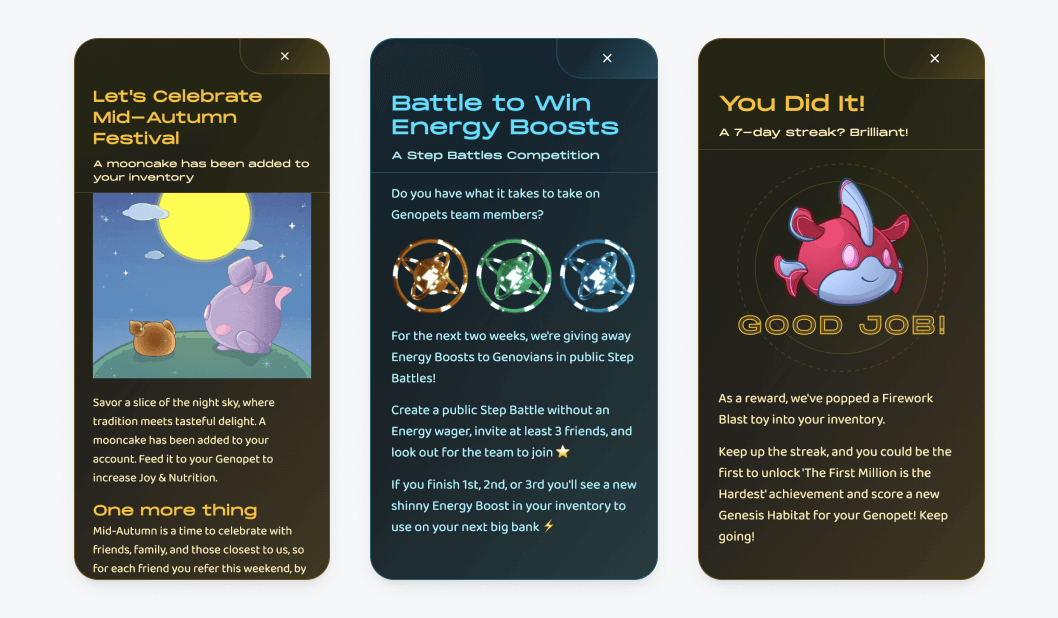 Genopets is a game that rewards players for living an active lifestyle. Players customize and evolve their pet with the steps they take every day. The team consistently delivers outstanding in-app messages with strong, brand-aligned designs and beautiful graphics to keep their players informed and engaged. Genopets has seen great success in activating their players to try new features of the game using OneSignal messages – a challenge in the mobile space.
Best Customer Journeys, APAC
SpinX Games - Carmen Turcanu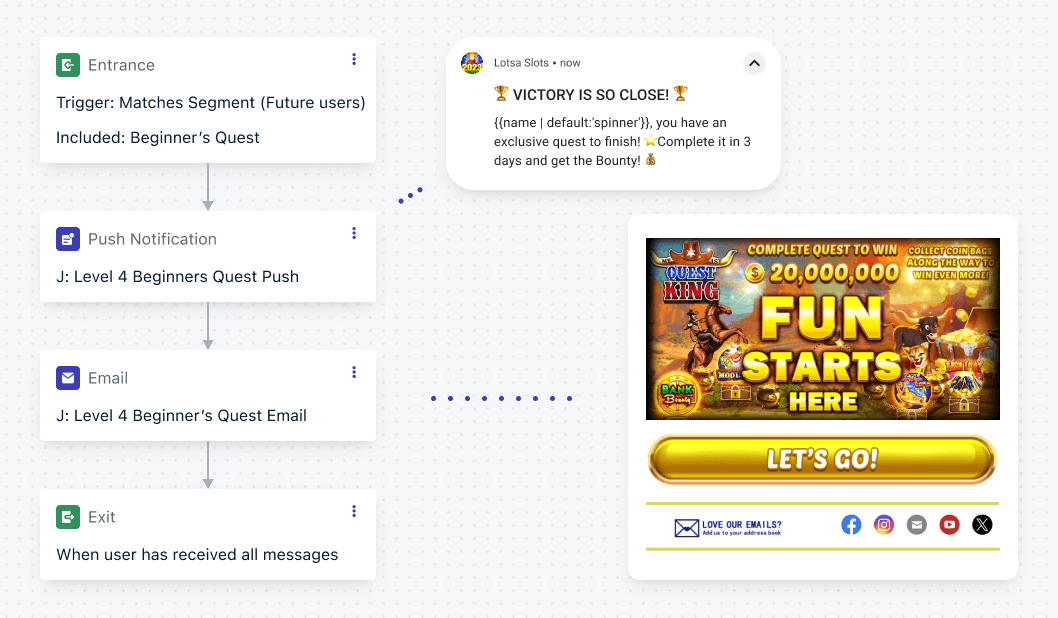 SpinX Games has skillfully crafted an omnichannel Journeys strategy that exemplifies automated customer engagement best practices. Their Journeys include a "beginners' quest" message and level-up messaging, as well as a player re-engagement Journey that brings back churning players using a combination of Push Notifications and Email. The outstanding success they've achieved is a testament to the team's exceptional ability to engage and guide users throughout their gaming experience.
Forward Thinking Marketing, APAC
HK01 - Dick Tang


HK01 provides news and lifestyle content online and via a mobile app. HK01's engagement strategy uses highly personalized push notifications to provide up-to-the-minute news updates tailored to their users' interests. Their refined approach to personalization is a stellar example of using best practices in personalization and consistently delivers high open rates for all their messages.
Strongest Debut, LATAM
Senff - Michelle Santana & Vitor Santos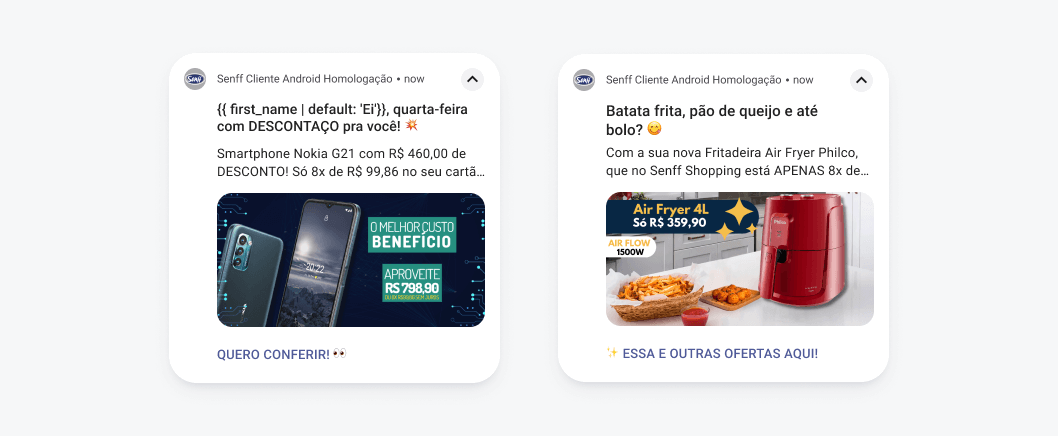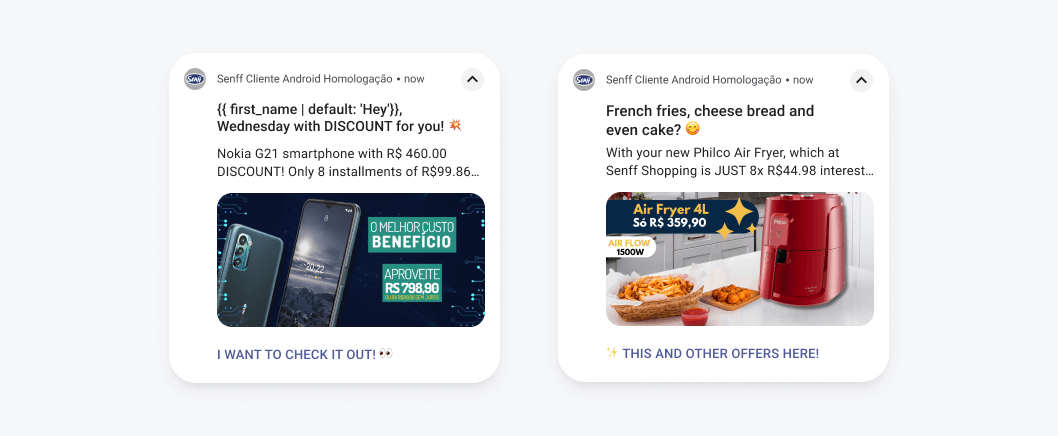 Brazilian bank Senff is fairly new to OneSignal, and have seen huge subscriber growth in a short period of time. Since they became customers in December 2022, their already high push notification subscriber totals have nearly doubled due to their thoughtful campaigns and timely messages.
Forward Thinking Marketing, LATAM
Quero Delivery - Lucimara Nascimento, Ed Santos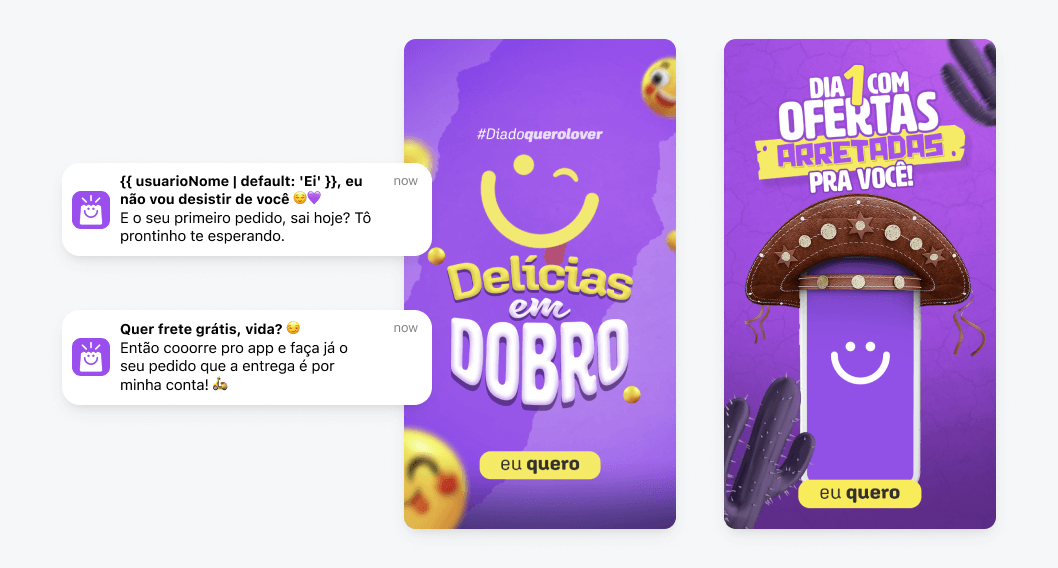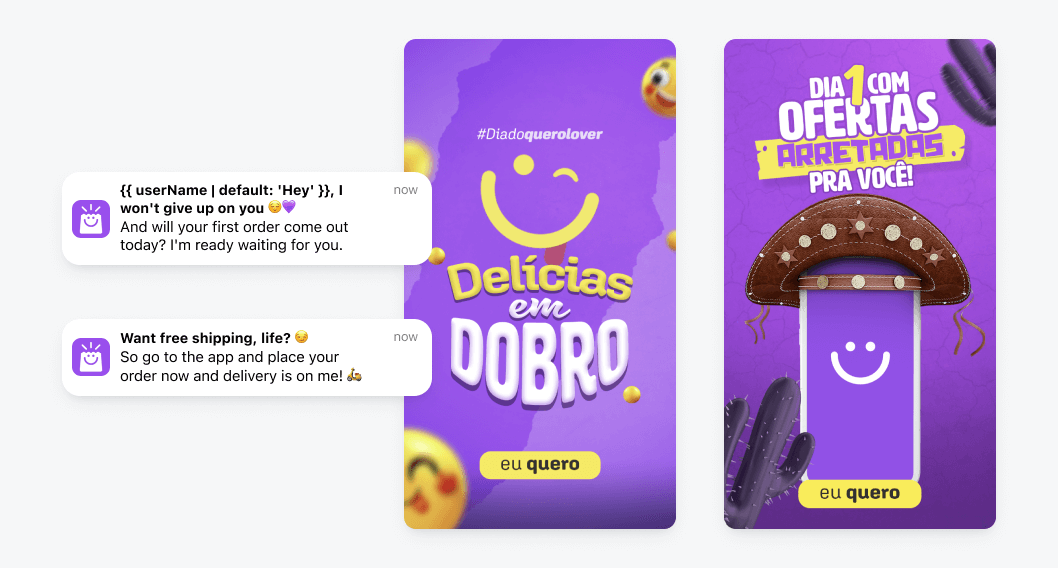 Quero Delivery is a purchasing and delivery application for ordering meals, food, medicines, and various products from numerous local stores. The team skillfully employs Push and In-App messages to keep their users informed and engaged with the app. Quero Delivery stands out for its proactive approach to customer engagement – the team prioritizes maintaining a deep understanding of their customer's behavior, and they use this knowledge combined with strategic messaging campaigns to achieve outstanding results.
Best Customer Journeys, LATAM
GoodMeal - Adriana Garcia, Maximiliano Acosta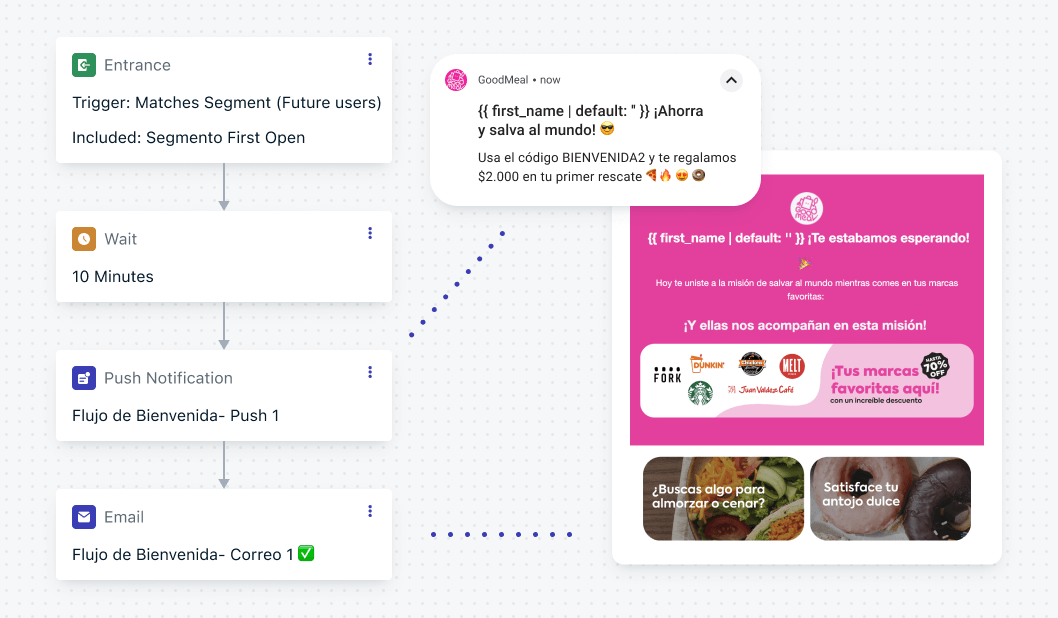 GoodMeal partners with consumer-facing businesses to offer surplus food to their users at significant discounts through the GoodMeal app. Their customer engagement strategy includes three omnichannel Journeys for onboarding, increasing purchases, and re-engaging customers. With a strong focus on leveraging automation to streamline their efforts and careful implementation of Data Tags to personalize their messaging, GoodMeal has driven high engagement and revenue growth.
Most Impactful Campaigns
aiqfome - Larissa Lindner, Victoria Almeida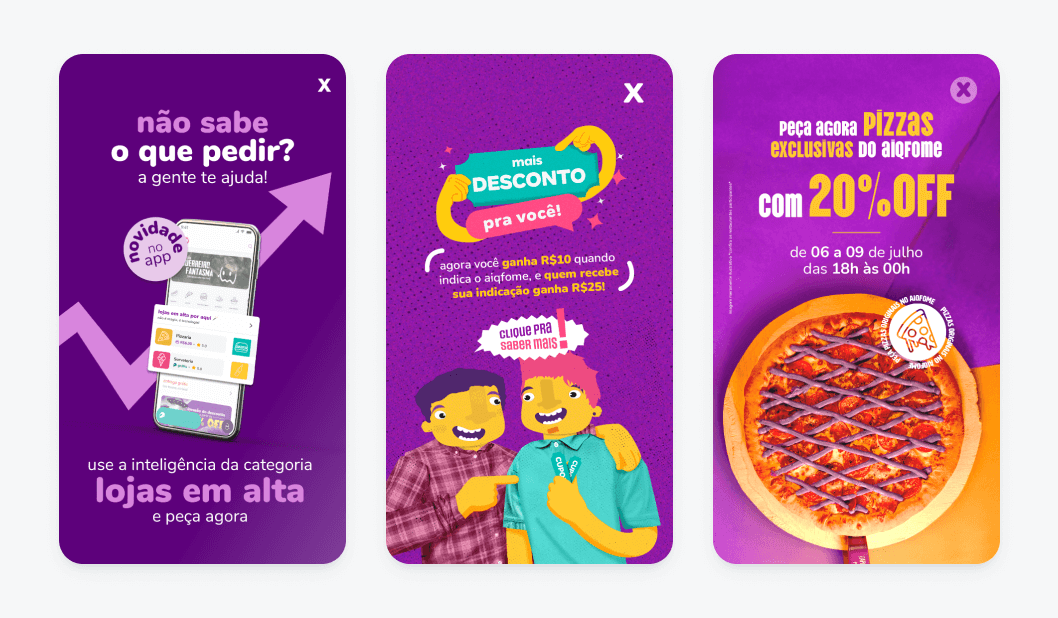 Have you ever heard of a 97.5% click-through rate? No? Well, now you have. Meet the aiqfome team, the first online delivery platform in Brazil and currently the second largest in the country. In addition to being delivery app pioneers, they are also innovative in their use of in-app notifications to engage their customer base – affectionately called 'fominhas' – having managed to achieve the incredible CTR mentioned above. This exceptional engagement proves their talent in creating and executing campaigns that truly impact their clients.
Do You Have a Customer Engagement Award in Your Future?
OneSignal has been a part of the mobile messaging game since the start. Our founders began as mobile game developers looking for a better way to communicate with their audience over every available mobile channel. Finding no solution to get the job done right, they created their own. Today, OneSignal offers an industry-leading mobile marketing platform that unifies email, push, in-app, and SMS into a powerfully connected mobile ecosystem.
Whether you simply need a hand automating your mobile onboarding sequences or you're ready to start scaling with custom multi-channel Journeys flows, we take pride in offering something for everyone. And that starts with access to OneSignal for free.
Get Started for Free