About C-SPAN
C-SPAN (Cable-Satellite Public Affairs Network) is a nonprofit television network specializing in United States federal government and public affairs programming. The network was founded in 1979 with the goal of providing Americans with unedited coverage of the U.S. House, Senate, and Congress. Today, C-SPAN also operates a website, a radio station, multiple podcasts, and social channels.
Launching the C-SPAN Now App
The original C-SPAN app was an audio-only app used to broadcast C-SPAN's radio station based in Washington, DC. As C-SPAN evolved, the app also hosted simulcasts of the company's three television networks and podcasts but its user interface remained limited. More recently, C-SPAN launched a new video app on iOS and Android called C-SPAN Now with the goal of providing its audience with more ways to engage.
"All news channels have a video app. We knew we needed push to be able to market C-SPAN video and get to viewers where they are. We're primarily a television network, but we have a website and we're on social media, and this was a space that we needed to be in, too," says Rachel Katz, C-SPAN's Affiliate Relations Manager.
Choosing OneSignal
With the new app launch, C-SPAN's digital media team knew they would need to expand their messaging strategy. Mobile push notifications were paramount to keep their new audience engaged and provide more value to app users.
C-SPAN's primary use case for push notifications was to drive what they called "tune-in" alerts to watch breaking news in their mobile app. As Katz explains, "People are not in front of a television all the time, and we wanted to get to them and enable them to watch important government events that are happening every day from their phones."

Before finding OneSignal, they used Amazon's Simple Notification Service in their flagship radio app. Although the solution provided some basic functionality, it didn't offer audience segmentation capabilities or performance metrics — two things that Katz knew would be critical to enhancing their communication strategy. Reflecting on their legacy solution, Katz says,

"You have to send to everybody and there are no metrics on the backend. So it worked, but it wasn't really a tool that lent itself to us doing any kind of serious mobile push marketing."
When she found OneSignal, she felt that the interface and the support were a perfect fit for C-SPAN's needs. Their team isn't technical, so it was exceptionally important to get a tool that was easy to use out of the box and didn't have a steep learning curve.  As Katz recalls, "OneSignal seemed to be in the sweet spot in terms of functionality and efficacy."
Growing with OneSignal
Since the C-SPAN Now app launched, they've gained more than 50,000 push subscribers and continue to add more every day. Recently, they've sent notifications about presidential addresses, Ukraine news, COVID updates by public officials, and much more. In addition to sending "tune-in" notifications to their entire user base, they've also begun working on campaigns to re-engage inactive users.

More recently, their team also sent their first in-app message. The message was a rundown of weekly scheduled events around the Supreme court confirmation hearings in late March 2022, which earned a 15 percent click-through rate.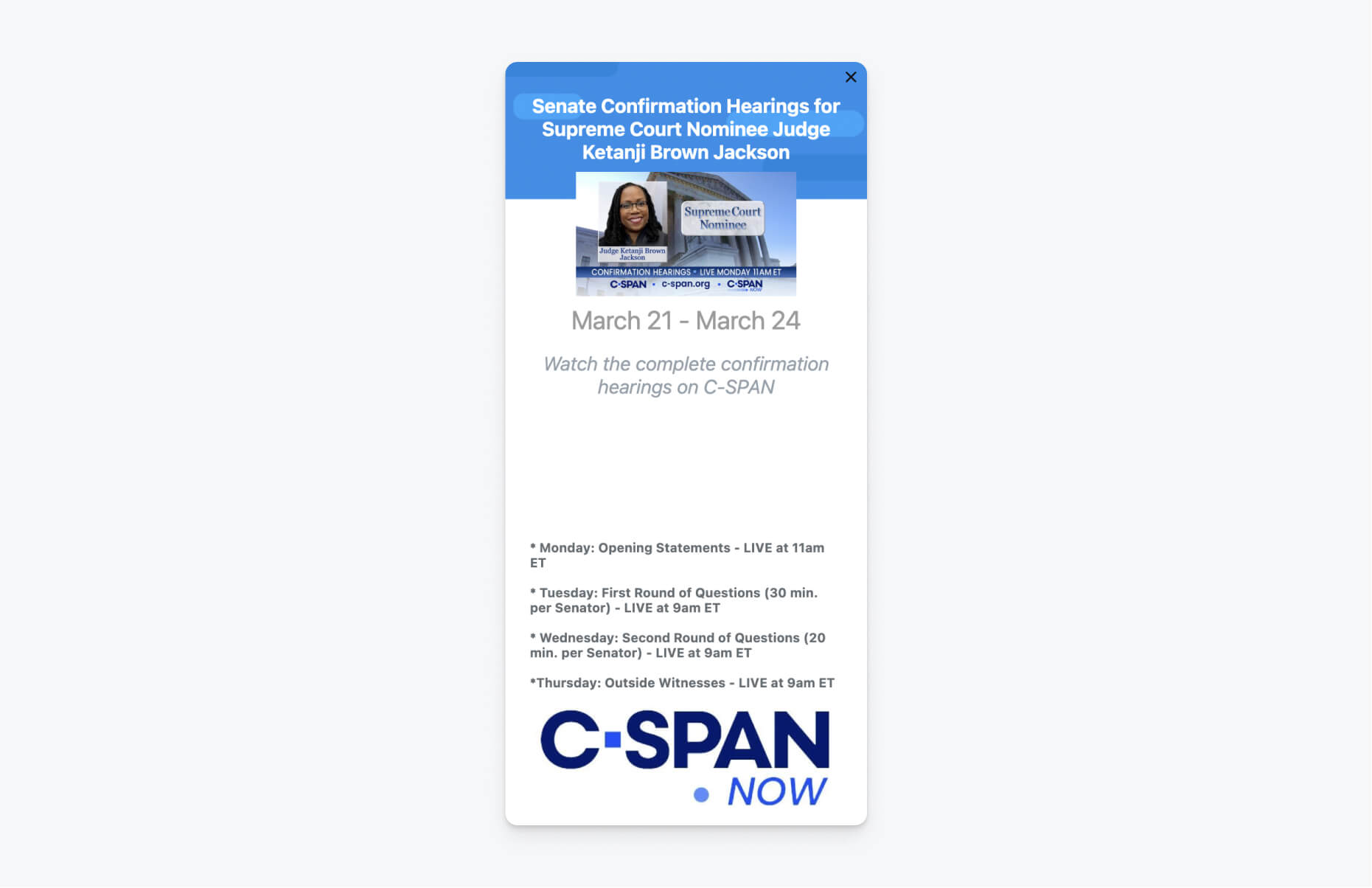 "We know that there are a lot of apps and that you don't open every app, every day. So when we have a big event, we want to be able to get in front of people and remind them that we are there — that we are a place to watch these important events. We want to do so in a strategic manner so that we are not annoying our subscribers, but instead making sure that they're aware of what's going on," explains Katz.
Building on Their Success
As they continue to build out their messaging strategy, they've also gained valuable knowledge from their experience thus far. "I think language matters a lot when you're breaking news updates. One of the things we've learned is to use action words — instead of saying live now, we've switched to watch live, which drives more response," reflects Robin Newton. Newton is a Media Relations Specialist at C-SPAN and is responsible for writing notifications in real-time based on news events.

As they look ahead to the next few months, their team is working on adding deep links to notifications in order to draw people into specific aspects of the app and leveraging more of OneSignal's Data Tags to further refine and target their app messages.
Reflecting on their old notification solution, Katz shares,
"It's been a quantum leap forward in terms of the interface and the sort of research that we can do based on user feedback, the analytics that are presented in the dashboard, and just in terms of the ease of use, I would rate it very highly."
Newton, who uses the OneSignal dashboard weekly, wholeheartedly agrees:
"It's very easy to use and it's pretty remarkable how quickly it can get the messages out…so far, it's been really great. We're seeing that people are actually opening the notifications when we send them. It's definitely drawing viewers to the app — and that's a great thing."
View More Customer Case Studies